CAM Life Lessons.
---
Life Lesson #1 Chelsie Gets Organised.
Creative Account Managers. Where would we be without them? In a right mess, basically. They're the mechanics who make sure our studio runs like a well oiled machine. Or maybe they are the oil. They're the missing link between client and creative. *Cue swelling music* The calendar inviters. The meeting noters. The deadline directors. The… You get the idea.
But it turns out they don't leave those skills at the agency front door. A career in CAM is like a degree from the University of Life. So what can we learn from these agency superhumans? What lessons can we, mere mortals whose email inboxes are not colour coded or clearly categorised, apply to our everyday lives?
First up, Chelsie gets organised…
If you were to ask my friends and family, they'd most likely tell you I am not organised. My dressing room looks like a tornado has hit it. I frequently lose my phone charger, and can I ever find my keys?
But who do they all come to when they need to analyse flight prices? Or to compare 40+ second hand campervans? Or to create comprehensive, rainbow coloured lists for camping trips, hen dos, baby showers and weddings?
It's me! Because, much like Liam Neson, what I do have are a very particular set of skills. Skills I have acquired over a long career.
Digital organisation. That's right. Spreadsheets, to do lists, calendars, each colour coded to perfection.
Being a creative account manager requires a specific personality type. A love of excel is a must; you have to be *that* friend who picks up on grammar and spelling mistakes; patience must be a virtue – because clients simply aren't going to send you what you need on time.
In this job, Google calendars are essential, and there's little risk of double booking where we're concerned. I can see where any member of my team is at any given moment – even if it's a trip to the dentist, and all their work is set out in a studio planner which we refer back to 100 times a day.
Just to be super extra, I've created my own colour coded monthly calendar – where I can keep track of all of my upcoming design time and deadlines. This way I only need to glance at the screen to know exactly what date I need to send briefs, receive assets and expect feedback. I'll then use this calendar to create my daily to-do lists, which are conveniently separated by client, with tasks ordered by importance. Working through a list has always helped me to get things done faster, but we all have our own tips, tricks and quirks. No two CAM members are the same, but we all leave the office knowing that all of our jobs for the day are ticked off and we are prepared for the morning.
With a sense of achievement, I'll go home – put my comfies on and immerse myself…in my holiday spreadsheet.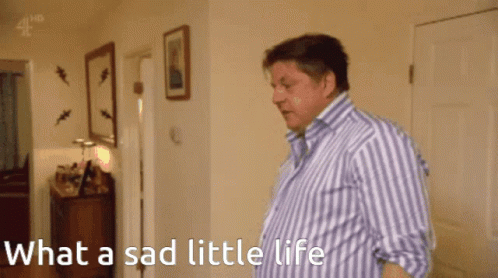 Life Lesson #2 Mel's Budgeting Tips.
It's time for another life lesson delivered straight from the horse's mo… no they'll kill me for that. From the source. Professional meets personal. Workplace meets weekend. This time, Mel's pinching the pennies with budgeting tips…
What's a more appropriate task for an account manager than budgeting? There isn't one. And if you ask anyone outside of the CAM team, people would likely say they don't do this in their everyday lives because 'ain't nobody got time for that'.
Not to make the account management team seem super anal (maybe we are actually) or that we're penny pinchers (maybe we are actually)…. OK so we might be both of those things in a work capacity but it's all for the good of our clients and it is actually one of the best transferable skills you can learn.
Saving for something new? New car? New shoes? New anything? Then budgeting should be your first port of call to ensure you hit that savings goal! The only difference with account managers is that it's actually our job to manage other people's money… which comes with a lot more pressure and responsibility. Luckily, personal life budgeting is a lot easier and you get to reap the rewards of it for yourself!
I must admit, this isn't something I'd ever done before until I got settled into my CAM role. I will now sadly admit that I have a budgeting spreadsheet which keeps me on track. What better way to plan your month than seeing the total you have left to spend solely on food, wine, clothes, whatever you fancy. Oh and did I mention, wine?
Yes, yes, you now think we're all saddos but…give it a go and see how you get on. A simple spreadsheet is all you need to get started (we've got templates coming out of our ears if you're not sure where to start) then once you have your first month done, you can duplicate and repeat! Set yourself a savings goal for that special something you've been wanting for ages and let the spreadsheet do the rest of the work to plan your month ahead.
Disclaimer: the account management team will not be held responsible for your lack of self-discipline if you choose to spend your 'savings' budget at your local pub and kebab shop instead!
Life Lessons #3 Patsy Conquers Confidence.
Two CAM life lessons down, and now it's Patsy's turn. We've already covered organisation and budgeting, so now it's time for a biggie. Stop being such a pushover! It's time to grow a pair (of perfectly tabulated spreadsheets) and get confident!
Before starting as an account executive at ilk, I was very much a yes man. A people pleaser. Not really confident in voicing my opinion or making decisions.
With the nature of the job, I have learnt to be more vocal, and not to be put down if someone says my idea is shit. Because my natural people pleasing nature – omg I'm so sorry please forgive me, let's go with your idea – needs to be suppressed.
The main goal of my job is to make the client happy and provide them with high quality work that fits their brief. But, sometimes you do have to question what they are requesting. Will it actually work or not? Then it's my job to push back on their idea and provide a different, viable and hopefully accepted solution.
This has found its way into my personal life. For example: I have been able to organise not one but TWO hen dos for 20+ people within a few days of each other. While taking into consideration other people's thoughts and suggestions, I have had the last say and not been too bothered by not being able to make everyone happy.
Confident communication is such a huge part of the job and it runs into everyday life. If people don't communicate what they want clearly, then that is where issues arise, briefs misread, confusion on deliverables. Previous relationships have broken down due to lack of communication from both sides, but we won't talk about my sad, lonely, loveless life…
But, this did teach me the importance of communication, and confidence. I'm now more inclined to ask the questions out loud that I would only ever ponder in my head. eg: Am I being ghosted?
At the end of the day, you can't please everyone*.
* but I'll still give it a good go and try not to cry about it.
Life Lessons #4 Sarah's Talent for Timekeeping.
There's probably a joke to be made about our CAM life lessons blog on timekeeping and deadlines coming in last, but Sarah's got plenty to say and now's the time to say it.
Being an account manager becomes a way of life before you even realise it. Or perhaps it's a way of life and then you become an account manager. It's hard to tell! That's not to say that I'm working 24/7 (sorry MD Nev) but rather that there are aspects of my job that are intrinsically linked to my life outside of work. One of those things is organisation and deadlines. Now, this can mean different things for different people, but for me it means spreadsheets, timing plans and being a general nag…which is something I've proudly transferred into my everyday life!
One of the first things I noticed is: you're always on time for things – if not early! This one can be a blessing or a curse, depending on how time conscious your friends or family are. I am early for most social events which can sometimes mean that I'm sitting in my car outside a restaurant knowing full well that I will be the only person sitting at the table if I go inside, or it can mean that if your friends and family are the same, you get an extended coffee date / table reservation / spa date…the list goes on!
Speaking of events, anything that extends beyond a night out (e.g. a weekend away) requires a timing plan, full agenda and a spreadsheet. This is non-negotiable and can seem a little bit extra to anyone who isn't an account manager, but I can already hear the murmurs of approval from my fellow CAM colleagues! These are invaluable for when you have budgets, timings and people all to keep in line – and yes you could be forgiven for thinking that I'm talking about a work project here.
And finally: deadlines, deadlines, deadlines. I risk sounding like a fun sponge here but it's so important to put deadlines on things, otherwise how do you know what's going to happen when? This can apply to friends (If I haven't heard from you by the end of the week…), family (If you don't return that top / bag / dress / pair of shoes by the end of the week…) and also clients (Can you please feedback by the end of the week…) so it's a good all rounder!
I'm very much aware that these CAM life hacks might make us sound like we are (boring) psychopaths but honestly, every group needs a nominated account manager to keep the wheels turning. We're happy to take the load on the organisation front so you don't have to, and that's exactly why we do the jobs we do, both inside and outside the workplace…